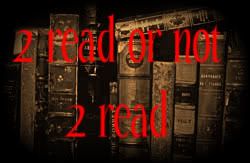 One of the most fun things about book marketing is meeting people through blogs, Facebook, and Twitter. (And in person too, of course.) Marcie of the blog To Read or Not to Read reviewed Charlotte Collins and she has been one of the best people to know for both support and encouragement.
On her blog, she reviews fantasy, romance, YA, Gothic, supernatural, classic, historical fiction, sci-fi, PNR, and some biographies. And she does a great job. Each review comes with full publication information so the book can be found easily and contains a brief summary of the work. Then, Marcie offers her review of the book, including fair critiques and well-thought-out opinions. All in all, Marcie is a great reviewer, and I'm not just saying that because she liked Charlotte Collins.
So if you are interested in any of the genres she reviews, hop over to her blog and find some new books to read this winter.